Popular Shoe Styles in the 1940s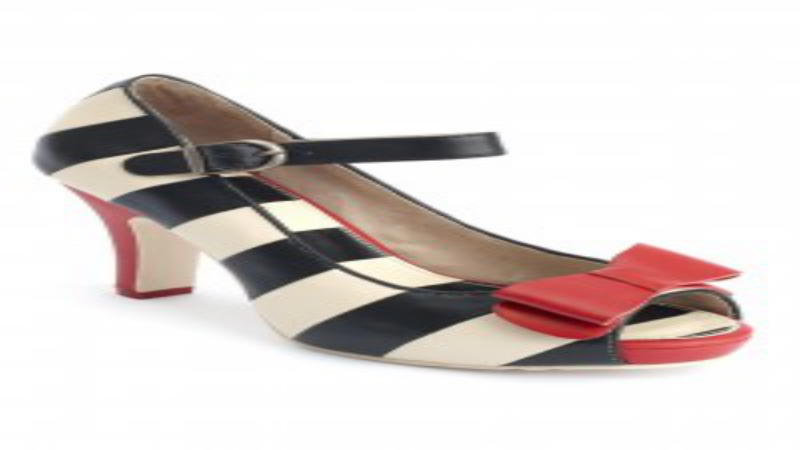 In the 1940s, most of the countries in the world were engaged in World War II. However, these circumstances did not keep women from wanting to look their best as their handsome soldiers would soon be coming home. Women focused their energy on creating outfits that were structured and sexy. Pin-up style clothing was the biggest trend in sex appeal, but no outfit would be complete without the right pinup shoes.
Sling-back Shoes
The sling-back shoe features a strap around the back of the ankle, exposing the heel and much of the rest of the foot. This shoe is perfect for someone trying to achieve a pinup look, since the foot is more free than one with a strap around the entire ankle. These shoes are easy to slide off, making them more comfortable for all-day wear. When this type of shoe came out in 1939, some fashionable women at the time didn't like the lack of ability to wear stockings with the outfit, which made them more risqué for individuals who wanted a sexier look.
Peep Toes
Fashion had multiple advances in 1939, which also included peep-toe shoes. These shoes were also disliked by refined woman for the same reason as with sling-back shoes, which was the inability to comfortable wear tights. Peep-toe shoes are predominant in pinup style, due to the enticing yet innocent showing of skin. Even though it is not as racy as a plunging neckline, it still gives a small taste of sexual appeal, making men wonder what else they can get a peek at.
Espadrilles
Perhaps one of the most iconic shoe styles in pinup fashion, espadrilles were popular around the world, before picking up mass appeal in America in the 1940s. This shoe became a must-have for pin-up and classy outfits after woman across the nation got a glimpse of the ankle-laced wedges featured in the 1948 movie, Key Largo, starring Lauren Becall. The wedge style allows you to have better balance, without sacrificing the sexy look of pinup.
Be Comfortable, Yet Sexy
When choosing the right pinup shoes, maintaining a certain level of sex appeal is a necessity. However, you should also consider your level of comfort, if you are planning to wear the complete look all day long. Some women are used to walking in heels, but you can still look vivacious and desirable in a flat. Finding your pinup style is the key to pulling any outfit off with confidence.
Tatyana is an online clothing store, in which consumers can select from a variety of pin up shoes, accessories, dresses, and other options. Clothing is available for women, men, and children.